Guide to
Lakes District
Chile's region spotted with lakes and volcanos at the gateway to Patagonia
Lakes District (Region de Los Lagos)
Chile's Lakes District, a short flight from Santiago is a gorgeous example of what Mother Nature can do, given the right ingredients. And here they are loads of lakes, winding roads, shady forests, snow-capped volcanoes, rivers, fjords waterfalls, hot springs and forests of trees known and unknown, including the monkey puzzle tree. Add to that the indigenous Mapuche group's culture and food, as well as the German influence mainly seen in architecture, street names and the un-missable kuchen (fruit pies and crumbles), and you've got yourself a great adventure. The main city for starting off a Chilean Lakes District trip is Puerto Varas, on the shores of Lago Llanquihue, which is also one of the stars of the region, perfect for kayaking, or a multi-day circumnavigation by bike.
Cycling around Lago Llanquihue
This 163 km circumnavigation of one of Chile's prettiest lakes thrills with continuously fantastic scenery including tree-lined curves and the ever present glittering lake, which, with an area of 860 km is Chile's second largest lake. Black sand beaches invite you to wade in, and pink sunsets with views of looming perfectly pyramidal Volcán Osorno are nearly a given.
Upscape Picks: No time to ride the whole loop? You can make a day trip out of riding out and back to Puerto Octay (about 50 miles rountrip) a town with German influence, and a lovely black sand beach.
Petrohué
These frothy, mint green falls in the Vicente Pérez Rosales National Oark are one of Chile's treasures. Boardwalks guide visitors towards and over parts of the falls, as they roil and fume below. This postcard perfect backdrop which includes the Osorno Volcano is almost too pretty for words.
Azure Lakes
In a who's who of lakes in Chile's lakes region, Llanquihue is perhaps the best known, since the main city of Puerto Varas sits on its shores. This one is backed by the impressive Osorno Volcano, and is the second largest in Chile. Lago Puyehue is perfect for tranquil kayaking, while a bike ride through Ranco is the perfect excuse to stop for kuchen (a type of fruit pie or crumble). There are many reasons to visit Lake Panguipulli, but the pizza and craft beer offer an additional incentive.
Bandurrias Island
This private island in Lago Rocas, close to the border between Chile and Argentina offers visitors a unique chance to spend a night amid 4 hectares of pure, unspoiled Patagonian beauty. There are small private sandy beaches and walking paths among arctic beech forests.
German Influence
The German influence in the Lakes Region can be seen in regional foods like fruit kuchen, the architecture both in Puerto Varas (such as the large white and red church that overlooks the city) and in the small, lakeside towns of Frutillar and Puerto Octay, as well as in the Felmer Museum with artifacts and history of the 19th century German colonists to this area.
Mapuche Culture
Right near the adventure capital of Pucón is the town of Curacatín, where, amid three volcanoes, Llaima, Lonquimay and Tolhuaca, there is an important seat of Mapuche culture. For visitors, that is best seen in the local food and handicrafts, which we explore while visiting this area. Perhaps the best known culinary contribution of the Mapuche people to Chilean cuisine at large is merquén, a dried pepper that is smoked over a wood fire, and ground together with cilantro seeds. It has a unique smoky flavor and just a touch of heat.
Cozy Luxury Lodges
Surrounded by forests, lakes, birdlife and dense forests, the relaxation of sleeping a luxurious night in the Lakes district cannot be overstated. Choose from the private lodge on Isla Bandurria to the cozy Casa Panguipulli with just seven rooms, to elegant Vira Vira, just outside of Chile's undisputed adventure capital of Pucón.
When to Go
How to Get Here
Nearest airport: Puerto Varas (PMC). Direct flight time from Santiago (SCL) is 1 hr 40 min.
Driving from Santiago: Approxiamately 11 hrs
Driving from Temuco: Approxiamately 3 hrs 45 min
Good to know
Language: Spanish Currency: Chilean Peso (CLP) Visas/fees: Travel to Chile does not require a visa for US/US/EU/CAN/AUS travelers. AUS citizens must pay a reciprocity fee.
What to do in Chile's Lakes District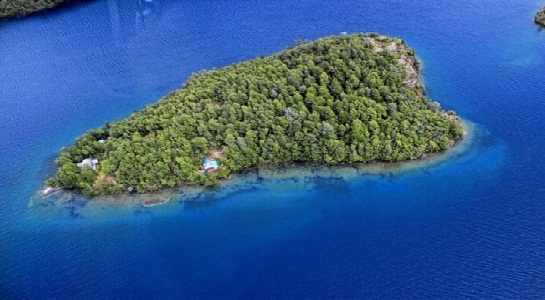 Trip Inspiration
ADVENTURE TO PRIVATE ISLA BANDURRIAS >>
UPSCAPE MOMENTS
Cycle Around Lago Llanquihue
HIGHLIGHT MOMENTS
Take a Dip in the Termas Geometricas (thermal baths)
UPSCAPE MOMENTS
Connect to Mapuche Culture
HIGHLIGHT MOMENTS
Kayaking the crystalline, untouched waters of Lago Puyehue
Where to stay: Overnight Recommendations
AWA
The vibe: modern luxury
The location: at the edge of Lago (Lake) Llanquihue
Good for: Adventure seekers who like to end the day relaxing with a view
Antumalal
The vibe: mid-century glam in a relaxed lakeside setting
The location: perched above Lago (Lake) Villarica, at the foot of Volcán Villarica
Good for: Architecture and design-lovers
Casa Pangapuilli
The vibe: Private and quiet boutique hotel
The location: Perched above the shores of Lago (Lake) Panguipulli
Good for: Couples or small groups looking for an intimate setting
Uman Lodge
The vibe: The great outdoors
The location: Just below where two rivers meet, Río Espolon and Río Futalefú
Good for: Fisherman and active couples or families
Vira Vira
The vibe: Peaceful and private
The location: Just outside of central Pucon
Good for: Those looking for a retreat from the area's activities
Estancia 440
The vibe: Historic bed and breakfast
The location: A few minutes walk from the shores of Lago (Lake) Villarica
Good for: Active travelers looking for a warm and cozy place to rest