GUIDE TO
Aysén
The undiscovered northern lands of Patagonia
Aysén, Patagonia
The story of Aysén is one of perseverance. Life here is simple, but hard-fought, as gauchos (as local cowboys are called) persist in extreme weather and whipping winds, yet make a life out of the part of Chile that is the least densely populated, raising cows and sheep, some of which may be destined to become your dinner, in the form of roasted Patagonian lamb. Other settlers to the area make the most of high season, fishing and picking and preserving local foods, to enjoy year-round.
Road conditions in Aysén vary with unpaved roads being the norm. Rain and winds can come any time of year, though winter is harshest here. And those same forces of nature have carved out this very special piece of Patagonia, leaving behind gnarled trees, many of them in forests of cold-climate rainforest, and arctic beech. Lucky for the visitor, these are the favored habitats of the huemul, a local endangered deer, the puma and other local fauna, including the giant, red-headed Magellanic woodpecker, and above them all, riding thermals, the Andean condor. These animals are most easily seen in places like the 650,000-acre newly formed Patagonia Park, which also has a comfortable lodge where travelers can stay.  Along roadsides, keep an eye out for the furry, llama-like guanacos, which often stand on ridges. 
Aysén is also known for its impressive waterways, and the confluence of the Nef and Baker Rivers, where the two frothy rivers roil together, show the untamed nature of this part of the country.  The largest lake in the country, the Lago General Carrera (which Chile shares with Argentina, where it is called Lago Buenos Aires) shines turquoise some days, and dark grey on others. It is here that travelers can visit the marble caves, carved from solid rock by thousands of years of insistent wind and the water from the lake itself.
LAGO GENERAL CARRERA AND THE RÍO BAKER
Water is one of the most important elements of this region of Chile. The largest lake, Lago General Carrera, covers 1,850 square kilometers, and separates Chile from Argentina. It drains both to the Pacific Ocean and to the Baker River, the most voluminous river in the country, which recently was saved from a hydroelectric project by local and international environmentalists.
MARBLE CAVES
Accessed from the tiny town of Puerto Tranquilo on the shores of turquoise Lago General Carrera, these caves are a series of monoliths where the undersides have been carved out by the waves of the lake over the past several thousand years. They are navigable by kayak or motorboat, and exhibit what appear to be thousands of layers of deposits, in hues from white to pale blue, and a darker grey and black, with veins of minerals running through.
SAN RAFAEL GLACIER
This towering glacier is a tongue of the Northern Patagonian Ice Field, and one of the largest in the area. It routinely calves into the glacial lagoon below in stunning shows, with thunderous cracks and splashes. The San Rafael Lagoon is dotted with icebergs that have broken off the glacier. The face of the San Rafael glacier is accessed on a stunning daytrip by boat from near the Patagonian city of Coyhaique. 
PARQUE PATAGONIA
This enormous, 650,000-hectare park is one of the Tompkins Conservation-run parks, deep on the Carretera Austral. It's a true gem, with a thriving population of huemules (a small, endangered Chilean deer). The park is in the transition zone between the dry Argentine steppe, and the Chilean beech forests, and has many different ecological niches, from grasslands to forests and wetlands. Visitors here can hike to where two rivers, the Chacabuco, and Chile's most voluminous river, the Baker join.
When to go
We recommend visiting October through December and late February through April.
How to Arrive
Flight from Santiago to Balmaceda or Coyhaique: 2.5 hrs
Both Balmaceda and Coyhaique are small airports often used as the gateway to Aysén.
Good to know
Language: Spanish Currency: Chilean Peso (CLP) Visas/fees: Travel to Chile does not require a visa for US/US/EU/CAN/AUS travelers. AUS citizens must pay a reciprocity fee.
Ready to go? Here's what to pack
Patagonia's weather is as extreme as its landscapes and often unpredictable. Packing right makes all the difference for an enjoyable trip.
Wind and waterproof outer layers (jacket and pants)
Hiking boots
Sun protection (hat, glasses and sunscreen)
Gloves
Thermal under layers
Travel tunes: Playlists for Patagonia
Where to stay: Overnight Recommendations
Estancia Chacabuco
Parque Patagonia (Patagonia Park)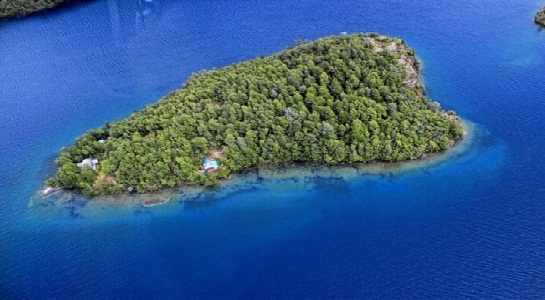 Isla Bandurrias
El Puesto Hostal
Tips from our Team
Scenic drives: Take the ferry from Puerto Ibanez to Chile Chico to make the exciting drive on the south shore of Lago General Carrera to Puerto Bertrand.
Local connections: Gaucho Luis Soto in Cochrane provides an incredible Patagonia experience at San Lorenzo estancia.
Stunning landscapes: The endless fields of lupines on the Carretera Austral in October and November are breathtaking.